VMware Monitoring with HP Operations Manager
Get more value from your investment in HP Operations Manager with the Veeam nworks Smart Plug-in™ (SPI) for VMware.
The nworks SPI provides distributed monitoring and management of the VMware infrastructure (VI3 and vSphere) fully integrated into HP Operations Manager. It publishes VMware configuration, performance, state, capacity, topology, and VMware vCenter™ events directly into HP Operations Manager, giving you a common view across your physical and virtual infrastructures
Single, common management console
Equip your 24/7 operations staff to perform routine VMware infrastructure monitoring without specialized virtualization expertise. The nworks SPI provides everything you need for comprehensive VI monitoring including out-of-the-box thresholds, targeting, event suppression, and knowledge base data using the full power of HP Operations Manager.
Future-proof solution
The nworks Collector component provides agentless monitoring of the VMware infrastructure, eliminating the risk of agent software impacting ESX host stability and performance. Because nworks uses the VI API, there is no need for agent recertification for new hypervisor versions or patches, and full ESXi support is provided. Qualified through the VMware Ready testing process by VMware, the nworks SPI is certified as VMware Ready Optimized, providing you assurance that this solution is secure, stable, safe to deploy and offers the lowest integration cost for VMware environments. The nworks SPI version 5.0 delivers native support for VMware's latest vSphere events and capabilities, enabling an in-depth and comprehensive integration between the VMware infrastructure and HP Operations Manager.
Proactive monitoring of virtual infrastructure resources
Integrate visibility of key VI data into HP Operations Manager:
Virtual machine metrics such as CPU ready time, swapfile usage and balloon memory
Physical ESX host hardware sensors such as fan speed, chassis temperature, and power consumption
ESX hypervisor metrics such as HBA I/O and latency, swapfile performance, and datastore space
vCenter events on DRS, HA, VM deployment, licensing, permissions, configuration and more
Comprehensive end-to-end monitoring
The nworks SPI for VMware provides integration of application and service data with the vSphere topology. In addition to comprehensive agentless monitoring, the SPI for VMware leverages data from Operations Manager agents running inside Windows VMs. This breakthrough functionality enables a fully integrated picture, with end-to-end monitoring extending all the way from VI-datacenter, to ESX cluster, to ESX host, to VM, to enterprise applications such as SQL Server, Active Directory, and Microsoft Exchange running inside virtual machines.
Enterprise-class scalability and performance
The nworks SPI includes all the components needed for secure, enterprise-ready operations with a distributed architecture, high availability, and automatic load-balancing, offering continuous monitoring of the largest ESX environments with maximum efficiency and minimal overhead.

Centralized management for licensing and configuration across multiple nworks Collector servers greatly simplifies deployment tasks and ongoing operations overhead for dynamically growing environments. The nworks Management Center manages multiple Collectors, automatically distributing licenses and monitoring tasks as required and dynamically load balancing for maximum performance and continuous monitoring for your business-critical VMware systems.
Extensive report and graph library
The nworks Smart Plug-in for VMware includes an extensive and growing library of reports and graphs for HP Reporter, Performance Manager and Performance Insight. View availability and performance data for virtual and physical servers by customer, location or groups of your own design. Chart cluster and resource pool utilization and host hardware sensor data. Customize reports and graphs to fit your VMware infrastructure needs using HP tools.
New in version 5.0
With new version 5.0 you can benefit from:
Support for VMware vSphere, vCenter v4.0 and ESX v4.0 - nworks SPI for VMware v5 has full native support for vSphere VI-API v4.0, with many new events, policies, monitors and topology objects
nworks Management Center - a web-based nworks Collector administration interface provides centralized configuration of a group of nworks Collectors, enabling Collectors' high-availability and load balancing of monitoring jobs
License Server - the License Server manages a pool of licenses across all nworks Collectors, automatically distributing licenses as required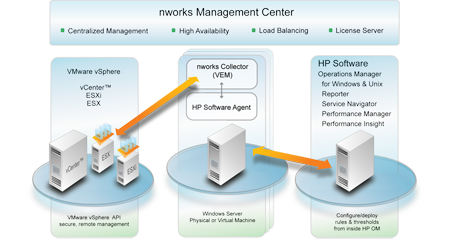 Veeam Business View integration
NEW Veeam Business View uses custom attributes to define groups in HP Operations Manager to create custom thresholds, dashboards and views according to your own criteria such as business unit, department, location, purpose, SLA etc., instead of their VMware infrastructure location. Business View helps you prioritize resource allocation, perform chargeback and control VM sprawl.