Leverage and protect your investments in VMware with the Veeam Management Suite.
The Veeam Management Suite is a set of industry-leading solutions for VMware backup and management, designed to provide significant cost savings, increase administrator productivity, and mitigate daily management risks for VMware deployments of all sizes. This cost-effective solution will help you automate routine processes of VMware management and gain complete control over your virtual infrastructure.
The Veeam Management Suite includes the following solutions to support your business needs as your environment grows over time: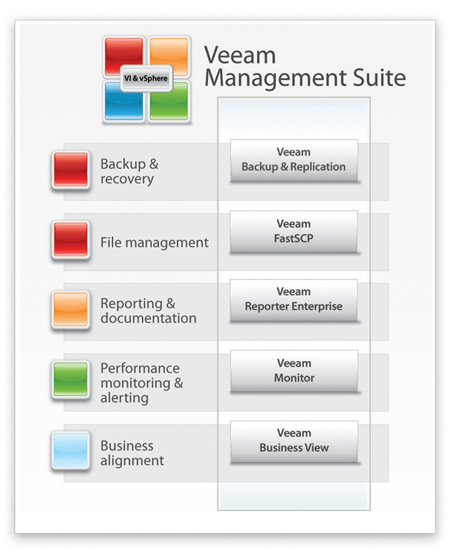 Backup and Recovery. With Veeam Backup & Replication, #1 Backup for VMware, you get a reliable, enterprise-ready disaster recovery solution for your VMware vSphere environment that offers 2-in-1: backup and replication, fast file-level restore for Windows and Linux, and built-in de-duplication – all in a single product, to protect your VMware infrastructure.Learn more
Reporting and Documentation. Veeam Reporter Enterprise is the first reporting and change management solution specifically designed for large VMware environments. Whether you need to document your virtual environment for executive management, to comply with internal or external requirements for IT documentation, or just to track and document changes, Veeam Reporter Enterprise can help you create management reports and detailed documentation on your virtual environment.Learn more
Performance monitoring and alerting. Rapidly becoming an industry standard for performance monitoring, capacity planning and troubleshooting for VMware, Veeam Monitor meets the day-to-day needs of VMware administrators. It provides support for troubleshooting and issue resolution, as well as trend reporting and capacity planning - equipping you to proactively manage Virtual Infrastructure 3 (VI3) and vSphere system health and performance today and over the long term.Learn more
Choose the suite that's right for you
Veeam Software offers a full line of backup, replication and systems management solutions to help you manage the lifecycle of your VMware infrastructure. All products are available individually or in suites and bundles designed for specific customer scenarios.