Citrix Receiver is a new lightweight software client that makes accessing virtual applications and desktops on any device as easy as turning on your TV. See how it works.
Much like a satellite or cable TV receiver in a broadcast media service, Citrix Receiver allows IT organizations to deliver desktops and applications as an on-demand service to any device in any location with a rich "high definition" experience.
As long as employees have Citrix Receiver installed, IT no longer has to worry about whether they are delivering to a PC in the office, a Mac at home, or an iPhone on the road. This approach radically simplifies desktop management for IT and gives end users far more flexibility and independence in how and where they work.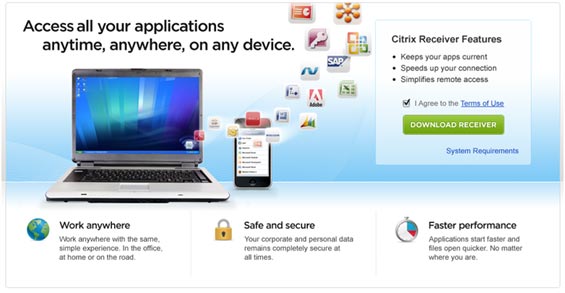 图片1

The one-time setup for Citrix Receiver is fast and familiar – much like installing a player for Adobe Flash™ or Apple QuickTime™. Users simply point their browser to a website provided to them by their IT department and follow the easy step-by-step instructions. Going from a fresh new PC or laptop to a fully provisioned user with all applications and desktops ready to use, typically requires less than 15 minutes. Once installed, Receiver is always up-to-date as the latest versions of client software and plug-ins are automatically pushed to all users based upon the policies set-up by IT and preferences chosen by the user. Check it out.
Citrix Receiver helps your IT organization leverage the full value of the Citrix Delivery Center:

Simplifying IT for users by making it easy to work anywhere with the same, simple experience in the office, traveling, or at home. Simply connect and work.

Optimizing IT administration to easily and quickly deliver new client software or updates without the complexity of packaging and distribution generally associated with ESD solutions, while reducing the cost of desktop management.

Accelerating the adoption of new business models, like BYOC and DaaS, by providing a centralized framework for client management that allows administrators to easily configure user capabilities while controlling access to resources with a simple, self-service client that provides a "high definition" user experience.