ParetoLogic Anti-Virus PLUS
If you use the Internet, your computer is susceptible to a wide variety of potentially dangerous and costly threats. In addition to taking up valuable memory space and starving your other applications of power, computer viruses can carry out such malicious damage as erasing your files and have the ability to spread to your network and contact list. Spyware and other malware can also inflict harm, such as stealing your credit card numbers and other confidential information.
This software goes many steps beyond the norm to keep you protected. When you are using the Internet, it will block malware-related sites and warn you of their attempts to invade your PC. As well, it protects you from malware that is located in scripts. This helps prevent you from being a victim of the "drive-by download." ParetoLogic Anti-Virus PLUS can even locate threats in compressed files. As social networking sites continue to grow in popularity, malware is being created to take advantage of unsuspecting users. ParetoLogic Anti-Virus PLUS offers protection from these threats as well.
Features and Benefits for you to enjoy:

Detection and complete removal of viruses, spyware and other malicious malware
In-depth scanning and cleaning process that finds and eliminates even the most sophisticated threats
Detection and removal of known rootkits, which try to stop detection of malware
Blocking of access to malware related URLs
Customizable scanning
Quick, easy-to-use
Free database updates to keep you protected against the latest threats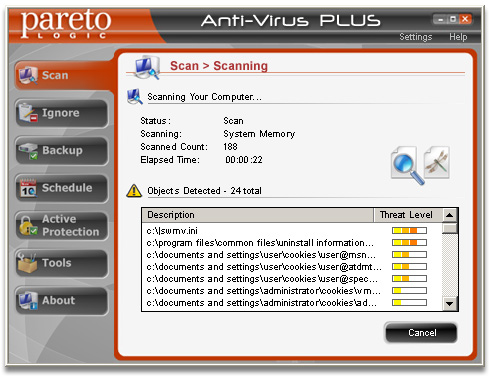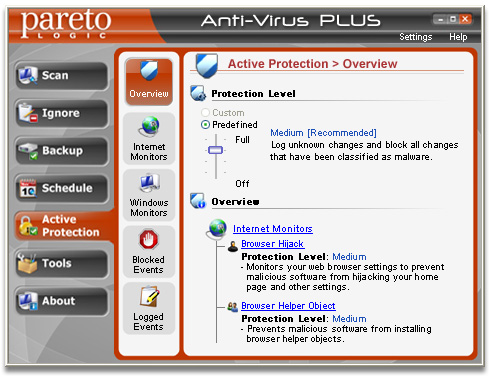 As with all ParetoLogic programs, Anti-Virus PLUS is a fast acting and easy-to-use, customizable application that is supported by regular updates. It also has a small footprint so it does not take up valuable space that you need for your important programs or gaming. ParetoLogic Anti-Virus PLUS is also backed by the company's customer care and support team that is second to none, ensuring that you are never alone in your fight against spyware, malware, and viruses.
Minimum System Requirements:
The following are the minimum levels required. For improved responsiveness we recommend higher system specifications than those presented here:
Intel Pentium III or compatible processor
At least 256 Megabytes (MB) of RAM
100 MB of hard disk space
Internet connection
Microsoft Internet Explorer 6.0 or 7.0
Operating System Requirements:
Microsoft Windows Vista
Microsoft Windows XP Service Pack 2
Microsoft Windows 2000 Service Pack 4
Operating privileges: logged on as administrator to install or uninstall

Note: All operating systems refer to 32-bit versions.