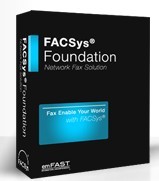 图片1

FACSys

Foundation is an evolution of the robust FACSys 4.91 Fax.Messaging Gateway that users have depended on for years. It continues to deliver the outstanding performance you have come to expect with the added benefits of new functionality and increased scalability.
How Different is it from FACSys 4.9 / FACSys 5 Enterprise?
FACSys Foundation is based on the tried and tested FACSys 5.1 Enterprise code. A completely transparent migration to the robust SQL Express database is just the start of the list of changes in store for existing FACSys 4.91 users. No additional database components are required to be installed - the installation takes care of it all.

The same familiar administration tools are used to setup and configure the server. Take advantage of the free monthly training to get up to speed on installation and configuration of FACSys and management of all of the new features.

FACSys 5.1 Enterprise adds functionality, scalability, management and redundancy features.


Upgrade Path from FACSys 4.9?
FACSys Foundation is an in-place upgrade to an existing FACSys 4.91 installation. Administrators will have the choice of allowing the installation to set up its own local SQL Server Express database or select from an already installed instance. All user profiles, routing and archiving settings, metadata and images will be automatically migrated into FACSys Foundation.
New Features
In addition to the FACSys 4.91 features you have come to expect,
you will find new ones:
Embedded SQL Express database
Web Browser Based Client
Microsoft Office 2007 Fax Wizards
New MFP integrations including Sharp, Brother and upcoming releases for Ricoh and Canon
Included support for PS, PCL and PDF rendering
Unique caller ID programmable for each user
Round-Robin routing method
Archive metadata created in .txt or .xml format
Inbound/Outbound fax message archive
Crystal reports V11 based reporting
Embedded SQL Express database
Fax over IP supported
Virtualization supported
Microsoft Windows 2008 Server supported
64-Bit OS supported
Additional extended logging capabilities
SDK Support for .NET 2.0 and Web Services
Support for Mainpine fax hardware
Support for new versions of SAP